Today we're talking about the best ways to shred zucchini for zucchini bread recipes, baking, cooking, and more. Learn the easiest, as well as most time consuming, ways to shred zucchini.
Want to make a recipe that calls for shredded (or grated) zucchini? You're in luck - there are plenty of ways to make shredded, grated, or minced zucchini, even if you don't have fancy appliances on hand.
Shredded zucchini bakes seamlessly into baked goods like zucchini bread and brownies, and can be added to sauces and casseroles with ease.
The easiest way to shred zucchini is with a box grater. If you're cooking with a lot of zucchini, I suggest investing in a box grater - they're inexpensive and fantastic for shredding cheese from a block.
Don't have a box grater? I'll go over several other methods for shredding zucchini below!
How to prepare zucchini for shredding
Give your zucchini a quick scrub under running water, then pat dry. No need to peel your zucchini beforehand - the skin contains fiber and nutrients you'd be missing out on otherwise.
Next, depending on the method you're using, slice one (or both) of the ends of your zucchini off. If using a box grater, slice the bottom off, leaving the stem intact to use as a handle. If using a food processor or blender, slice the stem off too.
Inexpensive and reliable: using a box grater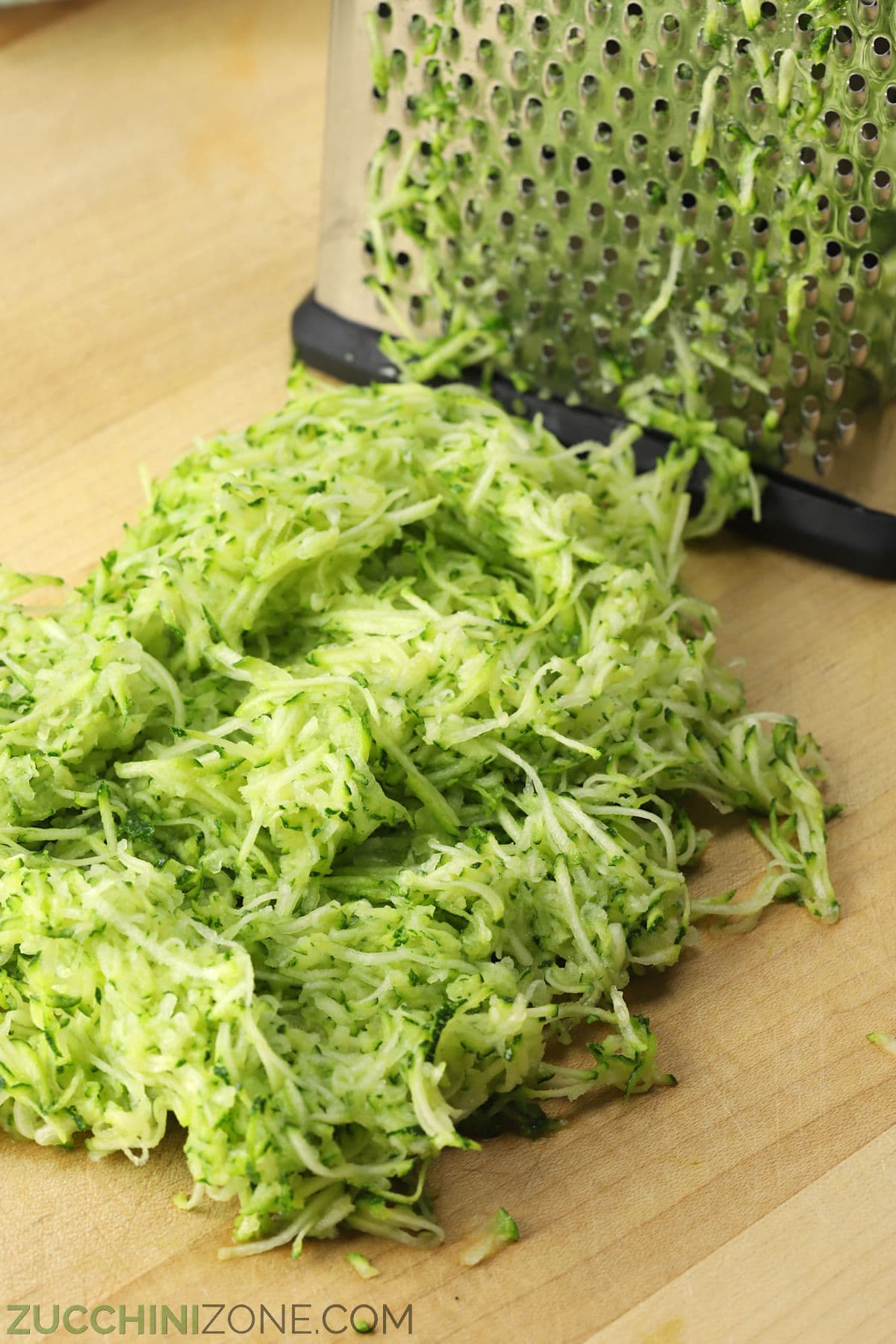 A box grater or flat handheld grater is an inexpensive, fast way to shred zucchini. Use the large side for a coarser shred, and the small side for finely shredded zucchini.
I recommend using finely shredded zucchini in bread recipes because it bakes seamlessly into the batter. Coarse zucchini shreds work well when adding to casseroles or egg muffins.
If you're frequently looking to shred zucchini (or fresh cheese), I highly recommend adding a box grater to your kitchen. They usually run around $10-20, depending on the brand, and last a long time.
Our choice: OXO Good Grips Box Grater
Fast: using a food processor (2 ways)
If you have a lot of zucchini that needs shredding, a food processor with grating disc is the way to go. This option is the fastest, although probably the most expensive, way to shred a lot of zucchini. In addition to the cost of the food processor, the grating disc is not always included. This part may require a separate purchase.
Food processors vary widely between brands. Some food processors (most smaller varieties) may not offer a grating disc at all. Other brands may offer one size (a larger grate), and other brands offer multiple sizes (a fine and large grate). If this is important to you, do some research before purchasing a food processor.
Food processor shown: Cuisinart Prep 9-Cup Food Processor
Don't have a grating disc? Wondering if you can simply chop up your zucchini with the standard ("S" shape) blade? Here's what that would look like:
An S blade, or the standard blade that comes with a food processor, is meant for chopping (when pulsed), or pureeing (when left on). While you won't get long strands like you would with a box grater, this can work in a pinch.
Add your zucchini to the bowl of a food processor, then pulse until the desired texture is achieved. Your zucchini will go from a rough chop to a rough mince (as shown above). I'd recommend this method for something like a zucchini pesto or a salsa. Keep going and eventually you'll have a zucchini puree.
Keep in mind that if your recipe requires you to squeeze excess liquid from your grated zucchini, you may have a harder time when it's minced. Also, a chunky dice or mince is less likely to bake seamlessly into a zucchini bread.
Food processor alternative: using a blender
A blender is a good alternative if you're looking for a chop or a mince, similar to what you'd achieve with the S blade of a food processor. Shown above is a rough chop in a Vitamix blender.
A blender will not give you a long, even grate like a box grater or grating disc, but can work if you need chopped zucchini for a pesto or salsa recipe. This can work in a pinch for a bread recipe, but will add a noticeable texture.
Blender shown: Vitamix Professional Series 750 Blender
Time consuming: using a knife
Using a knife is the most time consuming (and inconsistent) way to shred zucchini. You're more likely going to get something that resembles a chop, mince, or maybe a julienne, rather than a grate. Without using a grating tool, there's no way to get a consistent size and shape similar to grated zucchini by using a knife. Not to mention, it's extremely tedious and time consuming.
Storing shredded zucchini
Shredded zucchini will keep in a tightly sealed container in the refrigerator for up to 3 to 4 days.
Shredded zucchini can be frozen in a tightly sealed, freezer safe container (like a glass jar, freezer bag, or silicone container) for 3 to 4 months. See my full post on how to freeze zucchini for more information.
If your zucchini begins to smell, taste, or look off, it's best to throw it out.
For information on how to store prepared zucchini bread, check out my post: How to store zucchini bread