Learn how to make zucchini noodles using five different, easy methods. Use zucchini noodles for fresh salads, layering into lasagna, or topping with pasta sauce.
If you have an abundance of garden zucchini, then you may be looking for new ways to use it up. Making zucchini noodles takes just a little bit of prep and is an easy way to add more veggies to your meals.
Use spiralized zucchini to make recipes like zucchini noodle alfredo. Wide zucchini noodles are perfect for zucchini ribbon salad, a raw salad made with simple, refreshing ingredients.
Today I'm sharing five different methods to make a variety of zucchini noodle shapes. I'll be using a spiralizer, julienne peeler, vegetable peeler, mandoline slicer, and a knife.
Spiralizer
A spiralizer is a tool that slices your zucchini into thin, curly noodles. Handheld versions are usually inexpensive and easy to find, but to require a bit of elbow grease to use. Electric or hand crank options are also available, which may be ideal if you plan to spiralize lots of veggies.
To use a spiralizer: First, trim bottom end of your zucchini, creating a flat surface to make contact with the spiralizer. Align the zucchini with the center of the spiralizer and make contact. Then, slowly turn the zucchini by hand using light pressure, or use the hand crank to spin your zucchini (depending on the type of spiralizer you have on hand).
Julienne peeler
A julienne peeler is a small handheld tool, much like a vegetable or potato peeler, that turns your vegetable into long, thin strips. Some mandoline slicers also include a julienne blade that will produce the same result. Use a julienne peeler for vegetables like carrots, cucumbers, and zucchini. Julienned veggies can be peeled long (like pictured) to make noodles, or shorter for slaws and salads.
To use a julienne peeler: Place your zucchini down longways on a flat surface. Holding the zucchini by one end, carefully drag the peeler from one end to the other, creating long, thin strands.
Vegetable peeler
While a vegetable peeler is commonly used to peel the skin off potatoes, it's also great at making thin, wide zucchini noodles. Most home kitchens will have this type of tool on hand.
To use a vegetable peeler: Just like the julienne peeler, place your zucchini down longways on a sturdy surface. Holding the zucchini by one end, carefully drag the peeler from one end to the other, creating long, wide strands.
Mandoline slicer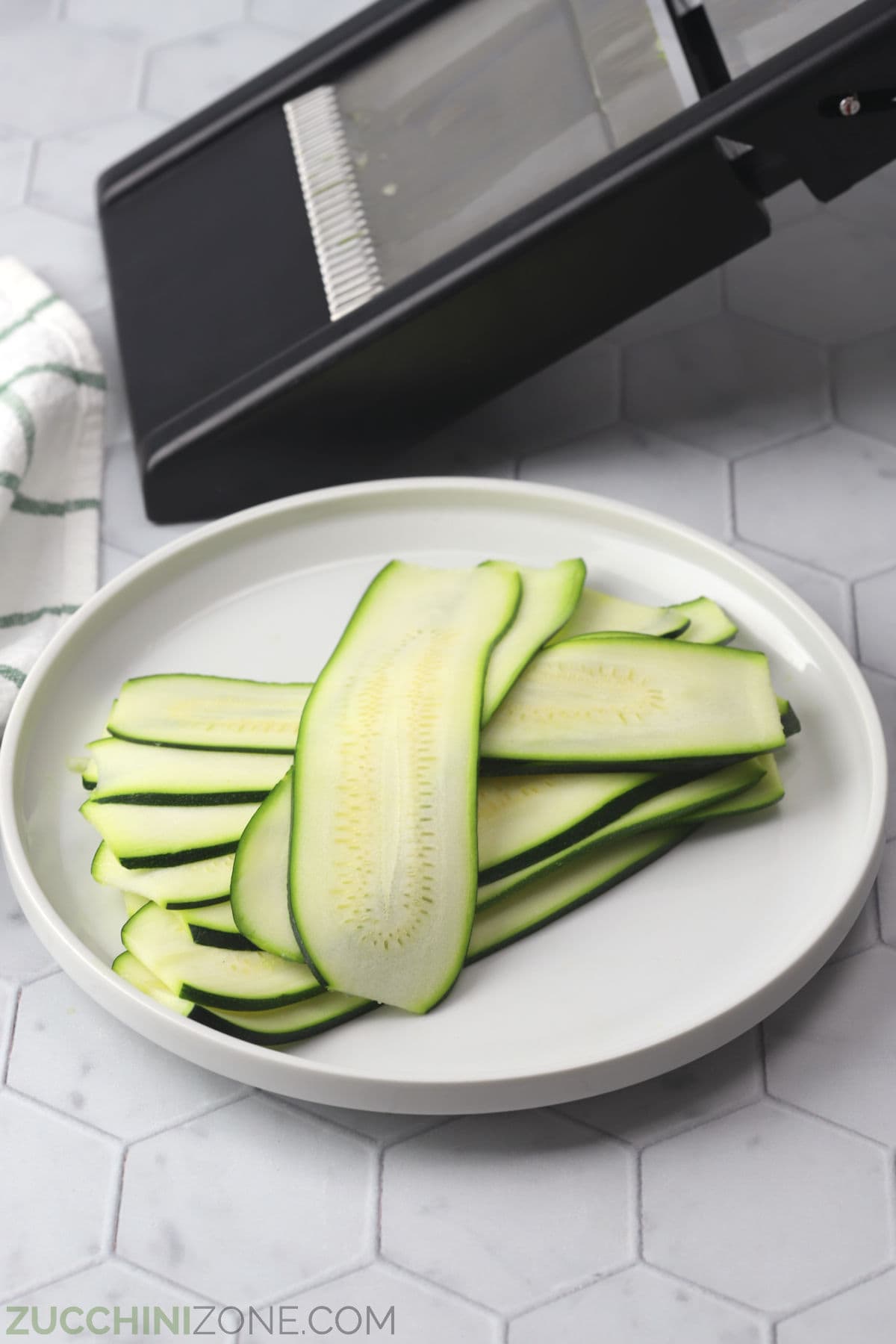 A mandoline slicer is commonly used to thin-slice vegetables like potatoes for an au gratin or cucumbers for pickles. It also makes excellent wide, long zucchini noodles for zucchini lasagna or zucchini ribbon salad. While this effect can also be achieved by using a sharp chef's knife, a mandoline slicer is quicker and more precise.
To use a mandoline slicer - Slice off both ends of your zucchini. Then, gently glide the zucchini over the mandoline blade, creating thin, wide ribbons. Take care to keep your fingers clear of the blade or use the included food safety holder.
Mandoline and/or knife
The wide, thin noodles made using a mandoline slicer (above) can also be achieved using a sharp chef's knife. Those wide, thin noodles can also be further sliced down to create noodles about the thickness of fettuccine.
To use a knife: Slice both ends off the zucchini. Either using a mandoline slicer or a knife, slice your zucchini into long, wide noodles. Lay the noodles flat on a cutting board, then carefully slice lengthwise into three or four long, thin noodles, about fettuccine thickness.
Does zucchini need to be cooked?
No! It's perfectly safe to eat zucchini raw if desired. Here are a few of my favorite raw zucchini recipes:
How long to cook zucchini noodles
Zucchini noodles are thin and cook very quickly, so they only need a quick sauté for about 2-3 minutes in a pan on the stovetop before they're ready to serve. Any longer and your noodles will start to get soggy and limp.
How to prevent soggy zoodles
Zucchini are about 90% water, so it's very easy for zucchini noodles to become watery. Here are a few tips to help prevent soggy noodles.
Once sliced, your zucchini begins to 'sweat' and release water. After slicing, but before cooking, pat your zoodles dry with a paper towel.
After cooking, transfer your zucchini noodles into a colander and allow to drain while preparing any other ingredients, like a sauce.
Take care not to overcook your zucchini noodles. Make sure they still feel a little firm when moving them around in the pan. Zucchini cooks quickly, and noodles only take about 2-3 minutes to cook through.
Give your noodles another pat with a paper towel or kitchen towel before adding to a sauce. Adding wet noodles to a sauce will make it watery.