Looking for new ways to use up that garden zucchini harvest? Make a batch of bread and butter zucchini pickles! They're sweet, mild, and tangy - perfect for topping your next burger.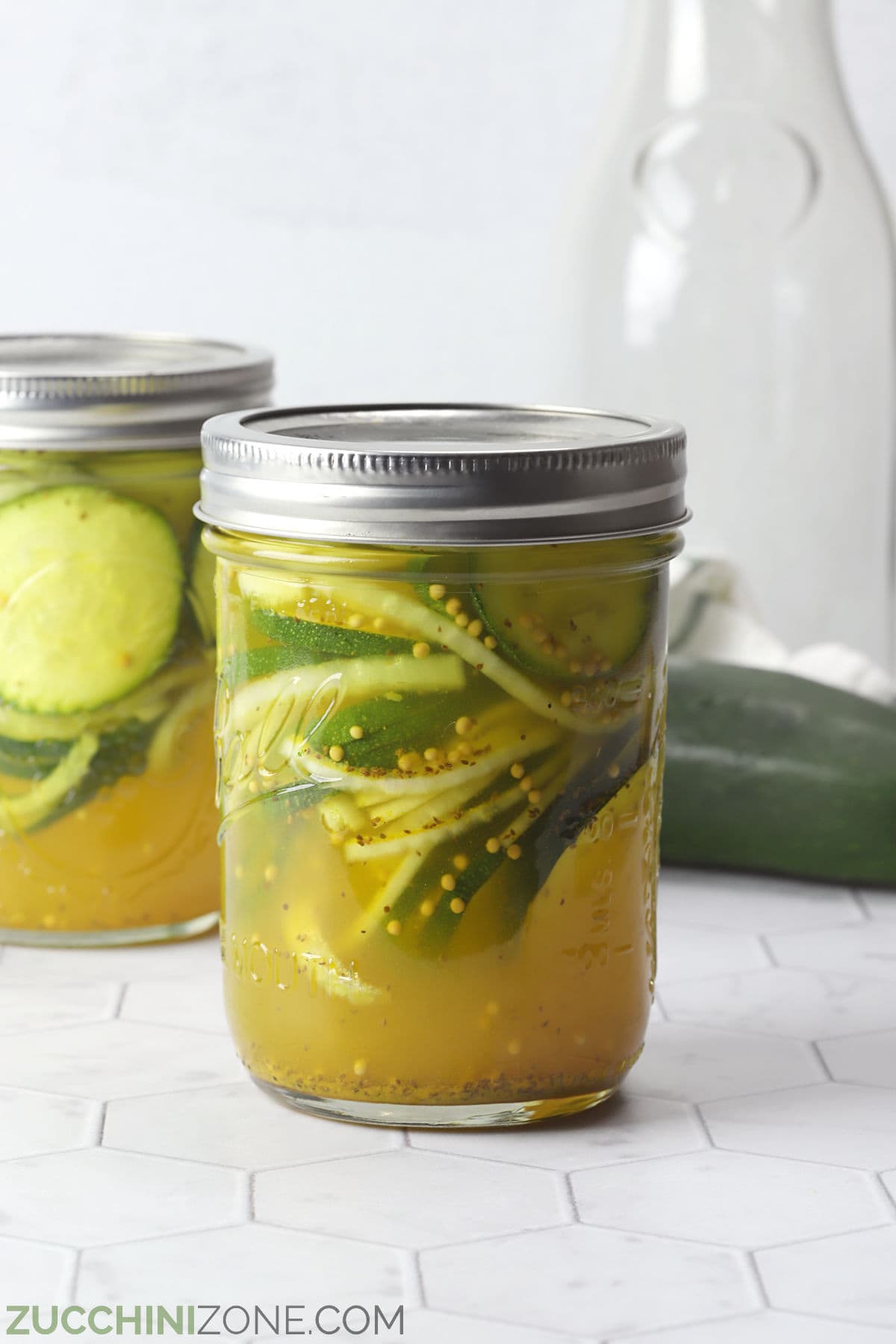 Did you know that you can make pickles with zucchini? We've already made dill zucchini pickles, so now it's time to try bread and butter pickles. They're sweet, mild, and tangy, and are easy to make in your own home.
Thin sliced zucchini and onions are packed into two 16 ounce mason jars and topped with a sweet brine made with granulated sugar, apple cider vinegar, and a few pantry spices.
The best part? Refrigerator pickles don't require any cooking or canning. Since they're stored in the refrigerator, there's no need to stand over a boiling pot in the middle of summer waiting for your cans to pop. Just 10 minutes of prep (or less if you're using a mandoline slicer), and you're done!
Ingredients and substitutions
Zucchini - You'll need one pound of small to medium zucchini for this recipe. Small zucchini don't have hard seeds and have a mild, slightly sweet flavor, making them perfect for pickling. Zucchini can also be substituted with cucumbers to make a classic refrigerator pickle.
Onion - Adds flavor to your zucchini pickles.
Vinegar - White vinegar or apple cider vinegar works well in this recipe. It's important not to adjust the amount of vinegar and water in this recipe, as the vinegar is what's pickling your zucchini and acting as a preservative.
Granulated sugar - Adds sweetness to your pickles, giving them that classic bread and butter flavor. Sugar can be reduced slightly (by ¼ cup) for a less sweet pickle if desired.
Seasoning - Kosher salt, mustard seed, celery seed, and turmeric add color and flavor to your pickles. Kosher salt can be substituted with sea salt or non-iodized salt. Iodized salt will not work in this recipe, it can discolor your pickles and change the flavor.
What do zucchini pickles taste like?
Zucchini has a very mild flavor and takes on the flavors of the ingredients added to it. Because the flavor of pickles comes from the ingredients added, they don't really taste different than pickles made from cucumbers.
The texture is slightly different, since zucchini have less water content and a more buttery, velvety texture. Zucchini pickles also seem to maintain their crispness longer than cucumber pickles.
In short, the differences are small. If you didn't tell someone you made pickles with zucchini, they may not notice.
How to slice zucchini for pickles
I highly recommend using a mandoline slicer, the slicing side of a box grater, or the slicing attachment on a food processor for slicing your zucchini. Using a slicing tool, rather than slicing by hand, not only saves time but also makes perfectly even slices.
⅛" will produce a very thin pickle, and ¼" produces a sturdier, thin, pickle slice. I sliced mine to ¼" in the photos.
What size jars to use
This recipe calls for two pint size (16 ounce) glass jars. This recipe works with any combination of sizes that equals 32 ounces total, like four 8-ounce jars or one quart size (32 ounce) jar.
If you're repurposing old pickle jars and you're not sure of their sizes, keep in mind that you may need to make some extra brine (the vinegar, water, and salt portion of the recipe) to cover your zucchini completely.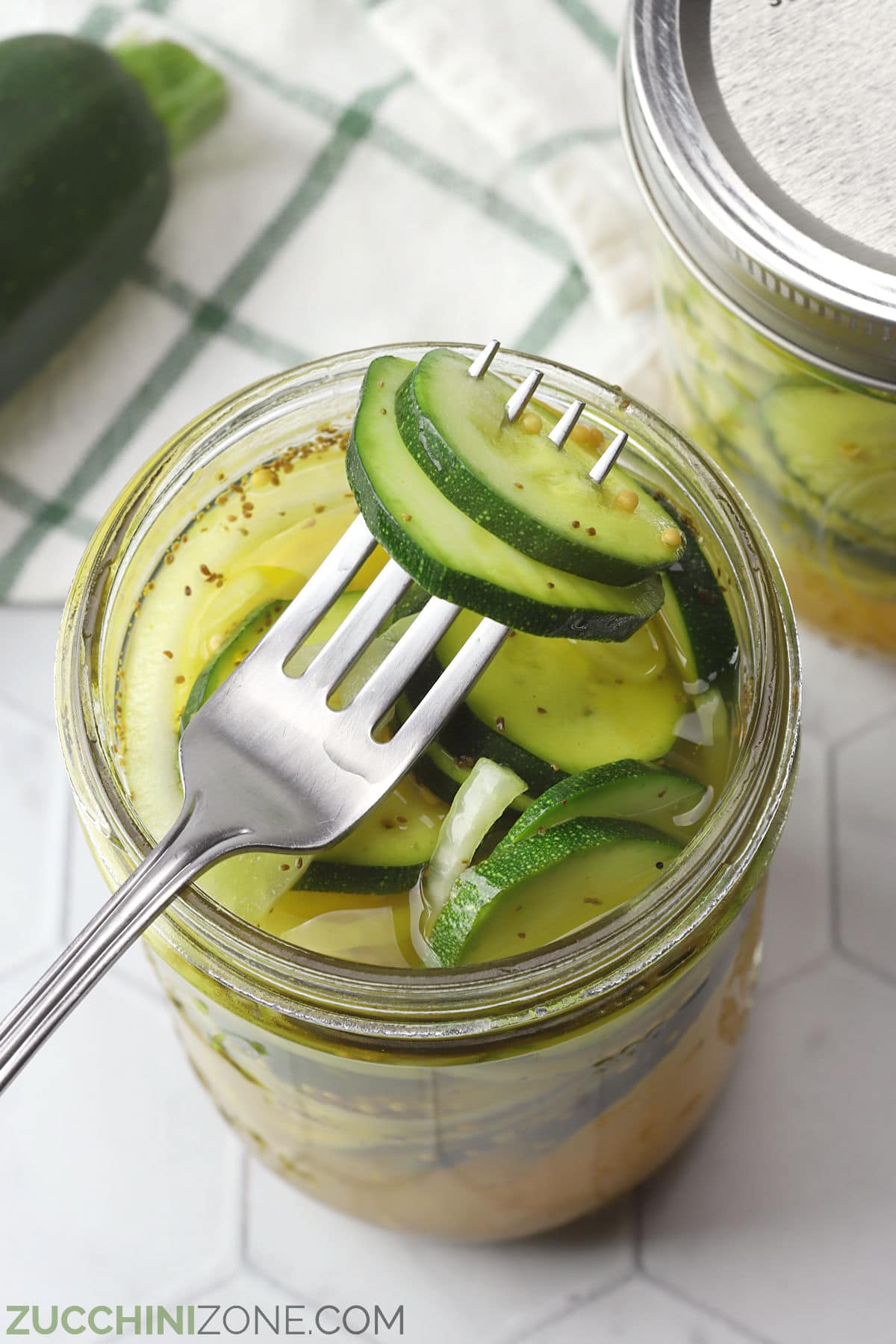 Do I need to sterlize my jars?
No, your jars do not need to be sterilized for a refrigerator pickle recipe.
Sterilized jars are necessary in canning because the canned food is stored for long periods of time at room temperature. Jars are sterilized to remove bacteria and fungi before adding food. This ensures the food does not spoil when kept at room temperature.
Since this recipe is not intended for canning, and your jars are stored in the refrigerator at all times, there is no need to sterilize your jars beforehand. Any clean, dry jars will work.
Storage
Since these are refrigerator zucchini pickles, they need to be stored in the refrigerator at all times. Your pickles will keep for 1-2 months tightly sealed in the refrigerator.
I have not tested this recipe as a canning recipe and do not have experience in canning, so I can't say for sure how your zucchini pickles would turn out if canned.
📖 Recipe
Print Recipe
Bread and Butter Zucchini Pickles
Looking for new ways to use up that garden zucchini harvest? Make a batch of bread and butter zucchini pickles! They're sweet, mild, and tangy - perfect for topping your next burger.
Ingredients
1

pound

small zucchini

,

thin sliced

½

medium

onion

,

thin sliced

8

ounces

vinegar

,

apple cider or white

¾

cup

granulated sugar

2

ounces

water

1

tablespoon

kosher salt

1

teaspoon

mustard seed

1

teaspoon

celery seed

½

teaspoon

turmeric
Instructions
Pack two pint size jars with sliced zucchini and onions. Set aside.

In a saucepan over medium heat, add vinegar, sugar, water, salt, mustard seed, celery seed, and turmeric. Whisk to combine. Heat to boiling and cook for 1 minute, or until sugar is completely dissolved. Remove from heat and allow to cool slightly.

Pour brine into jars to completely cover zucchini and onions. If your jars are packed very tightly, you may have some leftover brine.

Tightly seal, gently shake to disperse ingredients, and refrigerate for 2 days to allow zucchini to pickle. Store zucchini pickles in refrigerator for up to 2 months.
Notes
Refrigerator pickles are not canned, and therefore not shelf stable, and must be stored in the refrigerator at all times.
Zucchini can be substituted with cucumbers (any variety) to make a classic bread and butter pickle.
Nutrition Estimate
Serving:
1
ounce
|
Calories:
21
kcal
|
Carbohydrates:
4
g
|
Protein:
0.5
g
|
Fat:
0.2
g
|
Saturated Fat:
0.03
g
|
Polyunsaturated Fat:
0.1
g
|
Monounsaturated Fat:
0.1
g
|
Sodium:
112
mg
|
Potassium:
84
mg
|
Fiber:
0.4
g
|
Sugar:
4
g
|
Vitamin A:
57
IU
|
Vitamin C:
5
mg
|
Calcium:
9
mg
|
Iron:
0.2
mg