Zucchini noodle alfredo is made with spiralized zucchini and a homemade alfredo sauce packed with parmesan cheese. This dish is low-carb, gluten-free, creamy, and flavorful!
Zucchini noodle alfredo is an easy meal to prepare on a busy weeknight. Plus, you can easily customize this recipe by using your favorite spiralized veggies or traditional pasta to make a fettuccine alfredo.
The homemade alfredo sauce is easier than you think - it's ready in about 10 minutes on the stovetop! This sauce is creamy, rich, and packed with plenty of parmesan cheese and Italian seasoning.
You'll need a zucchini spiralizer for this recipe - either a simple handheld tool or an attachment for your stand mixer. I'll go over several options below if you're looking to add one to your kitchen.
Ingredients and substitutions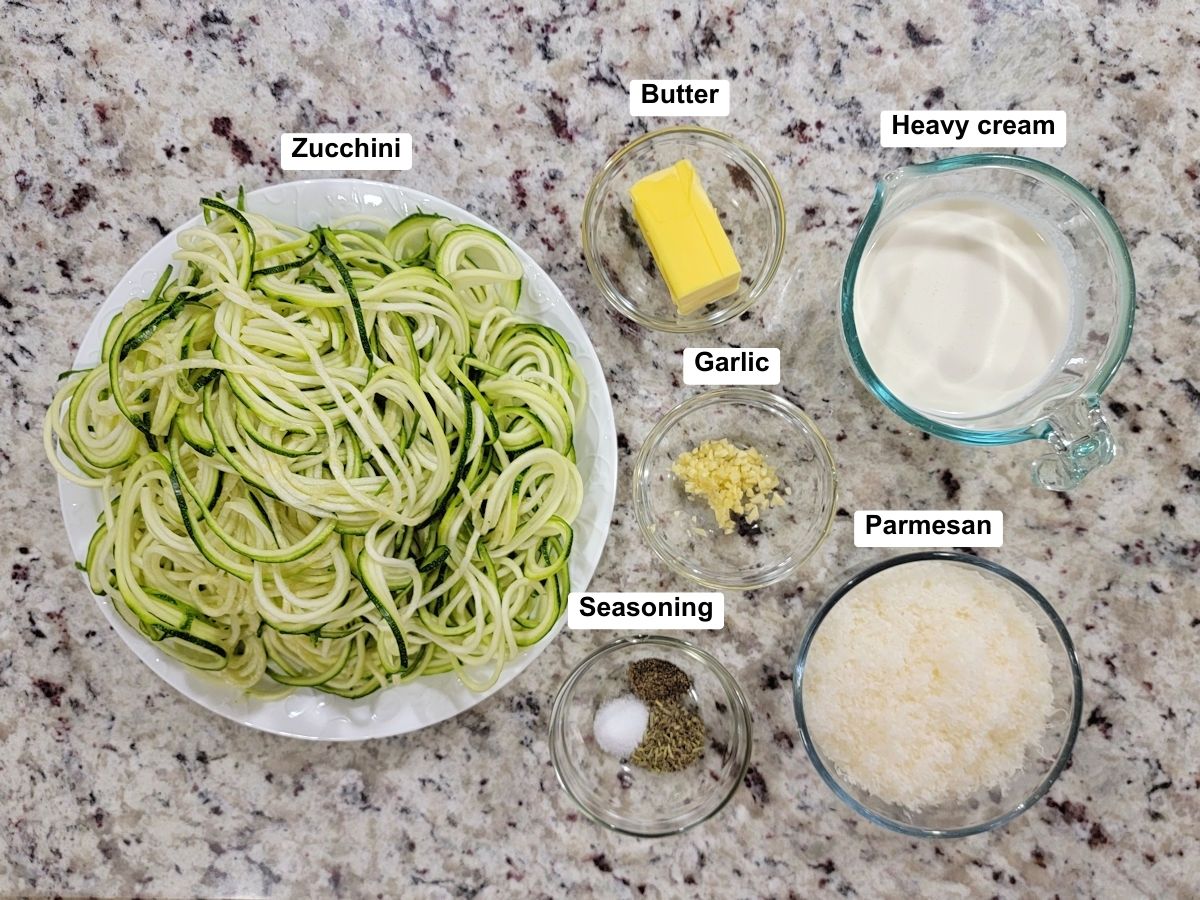 Zucchini - you'll need about 1.5 pounds of spiralized zucchini for this recipe. Zucchini or yellow summer squash have a neutral flavor and make a great pasta substitution, pairing well with alfredo sauce. Other great vegetables to spiralize include parsnips, carrots, and turnips. Spiralized veggies can also be substituted with about 8 ounces (dry, uncooked weight) of fettuccine to make a traditional fettuccine alfredo.
Butter - Unsalted butter can be substituted with salted butter (reduce the salt listed in half).
Garlic - I highly recommend using freshly minced garlic for this recipe. Jarred garlic can often have a harsh, unpleasant flavor. Two cloves of garlic can also be substituted with ½ teaspoon of garlic powder if needed.
Heavy cream - A must for this alfredo sauce. Heavy cream is thick and rich, and gives your sauce it's thick texture without the need for additional thickeners.
Seasoning - Salt, pepper, and Italian seasoning add depth of flavor to your sauce. Italian seasoning can be substituted with a combination of Italian herbs you have on hand, like basil, rosemary, oregano, and sage.
Parmesan cheese - I highly recommend using freshly grated cheese from a block. Pre-shredded cheeses (or parmesan cheese in a green canister) is coated in anti-clumping powder that will make your sauce grainy when melted, or prevent the cheese from melting completely.
Should zucchini be peeled before spiralizing?
No, there's no need to peel your zucchini before spiralizing. Most of the nutrients in zucchini are found in the skin, and the skin also helps your zoodles hold their shape once cooked.
Spiralizers
The easiest way to spiralize zucchini is to use a spiralizer. A spiralizer is a tool, often handheld, which slices your zucchini into long, thin noodles. Handheld versions are generally inexpensive and easy to find, but to require a bit of elbow grease to spiralize your veggies. You can also find electric or hand crank options which may be best if you plan to spiralize lots of zucchini.
Spiralizer options:
How to spiralize zucchini
First, trim the top and bottom ends of your zucchini, creating a flat surface to make contact with your spiralizer. Align your zucchini with the center of the spiralizer and make contact. Then, slowly turn your zucchini by hand using light pressure, or use the hand crank to spin your zucchini (depending on the type of spiralizer you have on hand).
If your zucchini is curved, you may find it easier to slice your zucchini in half, creating two smaller, straight zucchini pieces.
If your spiralizer is making small, moon shaped spirals instead of long noodles, remove your zucchini and realign it in the center of the spiralizer before continuing.
Don't have a spiralizer? The large side of a box grater can work in a pinch, creating long, rice-like zucchini noodles. Or, use a vegetable peeler to create wide, fettucine sized noodles.
How to prevent soggy noodles
Zucchini are about 90% water, so it's very easy for zucchini noodle alfredo to become watery. Here are a few tips to help prevent soggy noodles and watery sauce.
Once sliced, your zucchini begins to 'sweat' and release water. After spiralizing, but before cooking, pat your zoodles dry with a paper towel.
After cooking, transfer your zucchini noodles into a colander and allow to drain while preparing the alfredo sauce.
Take care not to overcook your zucchini noodles. Make sure they still feel a little firm when moving them around in the pan. Zucchini cooks quickly, and noodles only take about 2-3 minutes to cook through. Overcooked zucchini is soggy, and will in turn make your sauce watery.
Give your noodles another pat with a paper towel or kitchen towel before adding to your alfredo sauce. Adding wet noodles to your sauce will make your sauce watery.
📖 Recipe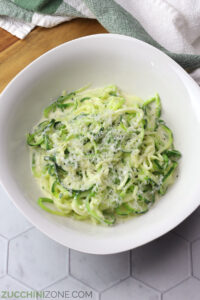 Print Recipe
Zucchini Noodle Alfredo
Zucchini noodle alfredo is made with spiralized zucchini and a homemade alfredo sauce packed with parmesan cheese. This dish is low-carb, gluten-free, creamy, and flavorful!
Ingredients
1.5

pounds

zucchini

,

spiralized

¼

cup

unsalted butter

,

divided

2

cloves

garlic

,

minced

1

cup

heavy cream

½

teaspoon

Italian seasoning

¼

teaspoon

salt

,

more to taste

¼

teaspoon

pepper

1.5

cups

freshly grated parmesan cheese
Instructions
In a 12 inch sauté pan over medium heat, add 1 tablespoon of butter. Once melted and hot, add spiralized zucchini. Cook for 2 to 3 minutes, or until softened slightly (but not soggy), tossing occasionally to steam evenly. Transfer to a colander and drain while preparing sauce.

Wipe out pan and return to heat. Add remaining 3 tablespoons of butter. Once melted, add garlic and cook for up to 1 minute, or until garlic just begins to lightly brown. Add heavy cream, Italian seasoning, salt, and pepper. Stir to combine and reduce heat to medium-low. Cook for about 2-3 minutes, or until sauce has thickened to your liking.

Add parmesan cheese and stir until melted. Remove from heat.

Pat your cooked zucchini noodles dry with a paper towel before adding to sauce. Toss to coat and serve immediately.
Notes
If using a smaller pan, you'll want to cook your zucchini in two small batches.
Alfredo sauce does not reheat well and the sauce will separate (the emulsion breaks) when reheated. I recommend only making enough alfredo sauce for one sitting.
Substituting heavy cream with other dairy (milk or half & half) will result in a thin sauce.
I recommend only using freshly grated cheese for this recipe. Pre-grated cheeses are often coated in anti-clumping powders that will cause your sauce to become grainy when melted.
Nutrition Estimate
Calories:
494
kcal
|
Carbohydrates:
12
g
|
Protein:
15
g
|
Fat:
44
g
|
Saturated Fat:
27
g
|
Polyunsaturated Fat:
2
g
|
Monounsaturated Fat:
11
g
|
Trans Fat:
0.5
g
|
Cholesterol:
130
mg
|
Sodium:
833
mg
|
Potassium:
584
mg
|
Fiber:
2
g
|
Sugar:
6
g
|
Vitamin A:
1899
IU
|
Vitamin C:
31
mg
|
Calcium:
409
mg
|
Iron:
1
mg