Whip up a grilled zucchini salad for your next summer barbecue. Grilled zucchini and corn on the cob make the perfect nutritious additions to this fresh side salad recipe.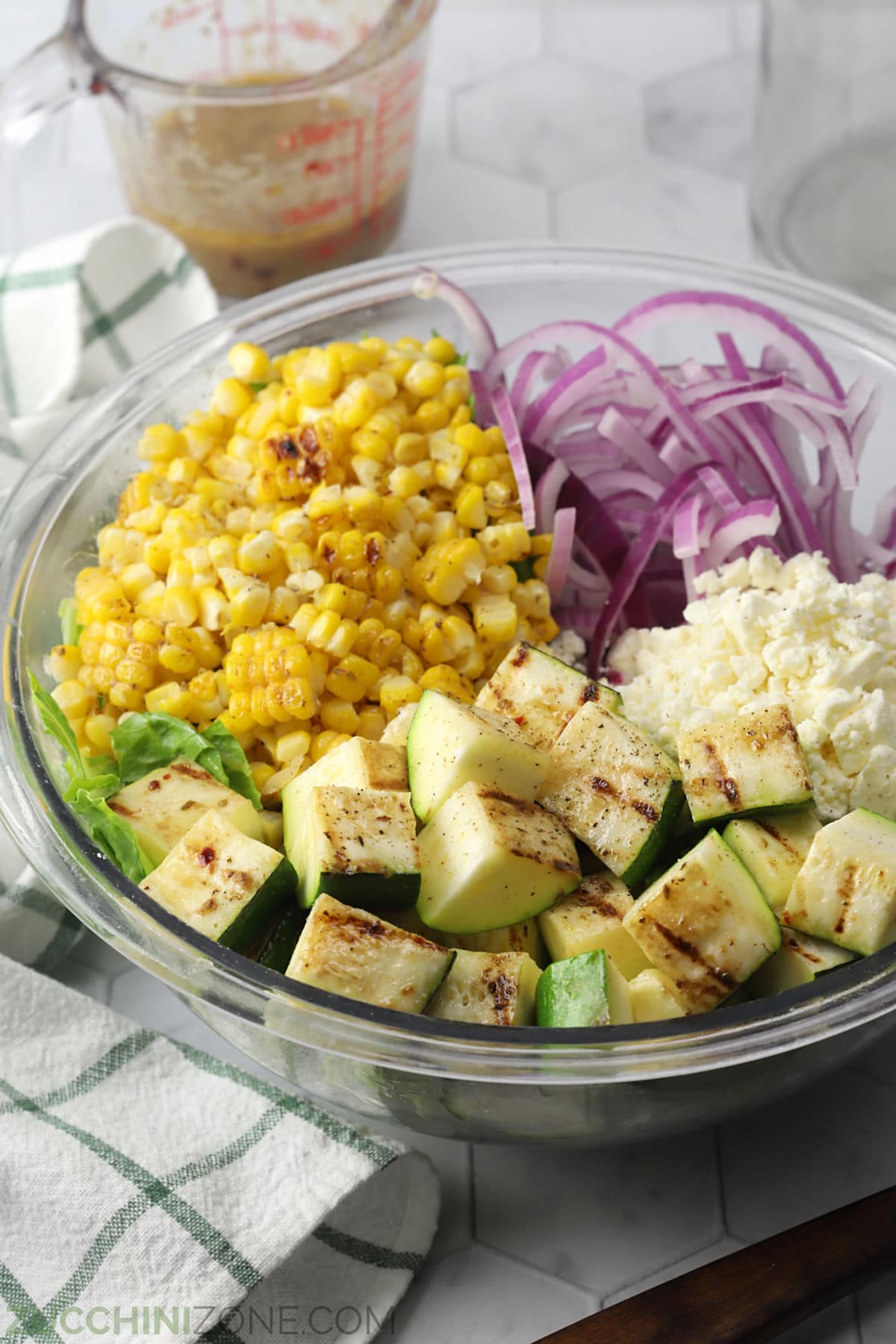 Next time you fire up the grill for dinner, don't forget to add your veggies! This grilled zucchini salad is made with two grilled vegetables - zucchini and corn on the cob - for the ultimate fresh summer flavor.
Grilled zucchini, grilled corn on the cob, red onion, and feta cheese top a bed of chopped romaine lettuce. The simple homemade vinaigrette dressing doubles as a marinade for our grilled veggies.
Serve grilled zucchini salad as a side dish for your next summer meal. It pairs perfectly with grilled fish, steaks, and burgers. You can also top your salad with some grilled chicken (or your favorite protein) for a complete meal.
Ingredients and substitutions
Zucchini - You'll need about two medium zucchini for this recipe. Zucchini can be substituted with yellow summer squash if desired.
Corn - Two corn cobs can be substituted with about 1 cup of frozen, thawed corn kernels or drained canned corn if needed. However, the fresh flavor from grilling corn on the cob can't be beat. If possible, I highly suggest grilling corn cobs for this recipe.
Red onion - Adds flavor and color to your salad.
Feta cheese - Adds salty flavor and creamy texture to your salad.
Lettuce - I used romaine lettuce for this recipe, but any leafy greens you have on hand will work.
Oil - I recommend using an oil with a high smoke point, since we're utilizing half of the dressing as a marinade that will go on the grill. Avocado oil, vegetable oil, or canola oil are great choices.
Vinegar - Red wine vinegar can be substituted with apple cider vinegar if needed.
Dijon mustard - Adds tangy flavor to your dressing and also acts as an emulsifier.
Seasoning - Salt, oregano, and red pepper flakes add flavor to the dressing.
Grilling tips
Brush your veggies on all sides with marinade before placing on the grill. The marinade isn't meant to permeate into the flesh of the vegetables (this is actually a myth!), but prevents sticking and burning.
Cut your zucchini evenly in half so that each piece cooks at the same rate.
Use oil with a high smoke point - this means an oil can stand up to higher heat (like a grill) without burning.
Grill vegetables at medium-high heat. Anywhere from 375 to 400 degrees Fahrenheit. Hotter temperatures will char the outside of your vegetables before they're cooked through on the inside.
Only cook your zucchini long enough to get good grill marks - about 2 minutes per side. Zucchini cooks quickly and can technically be eaten raw, so there's no need to leave it on the grill for a long time. Grilling for too long will make it soggy and mushy.
Oil your grill grates before placing food on the grill. This ensures your veggies don't stick.
Place the zucchini and corn perpendicular to the grill grates to ensure they don't accidentally fall through.
Frequently asked questions
Can you put cooked zucchini on a salad? Yes, cooked zucchini is a great addition to summer salad and can be added warm or room temperature.
How do you cut zucchini for grilling? I prefer to cut zucchini in half lengthwise for easy grilling. If your zucchini is very large, it could be quartered into spears. Long zucchini pieces are easier to maneuver on the grill and are less likely to fall through the grill grates. Zucchini is easily sliced into bite size pieces after grilling.
What other veggies can be grilled for a salad? Summer squash, bell pepper, asparagus, onion, and eggplant are great additions to a grilled vegetable salad.
How do you prevent zucchini from getting soggy? Zucchini is made of over 90% water, so when it's overcooked it will become soggy and mushy. Grill your zucchini for up to two minutes per side, or until you see grill marks, then remove from the grill. Perfectly grilled zucchini should have a firm texture that's not mushy or soggy.
📖 Recipe
Print Recipe
Grilled Zucchini Salad
Whip up a grilled zucchini salad for your next summer barbecue. Grilled zucchini and corn on the cob make the perfect nutritious additions to this fresh side salad recipe.
Ingredients
2

medium

zucchini

2

ears of corn

,

husks and silks removed

⅓

cup

(

65

g

)

vegetable oil

2

tablespoons

red wine vinegar

1

tablespoon

dijon mustard

1

teaspoon

oregano

1

teaspoon

salt

½

teaspoon

red pepper flakes

1

head

romaine lettuce

,

chopped

½

small

red onion

,

thin sliced

4

ounces

(

113

g

)

crumbled feta cheese
Instructions
Preheat grill to medium-high heat, about 375 to 400 degrees Fahrenheit. If needed, clean grill grates.

Meanwhile, slice zucchini in half lengthwise and place on a sheet pan or tray with corn cobs.

In a small bowl, whisk together vegetable oil, red wine vinegar, dijon mustard, oregano, salt, and red pepper flakes. Brush vegetables on all sides with about half of the prepared dressing, reserving the rest for later.

Wipe grill grates lightly with oil, then place zucchini and corn perpendicular across the grill grate. Cook zucchini for about 2 minutes per side, or until they have nice grill marks. Cook corn until darker spots appear, rotating as needed, about 2 to 3 minutes per side.

Transfer vegetables to a cutting board. Slice zucchini into bite size pieces and carefully cut corn kernels from the cobs.

In a large bowl, add romaine lettuce, onion, feta cheese, zucchini, and corn. Top with reserved dressing and toss to coat. Serve immediately.
Notes
If serving salad later, store grilled veggies, salad, and dressing separately until ready to serve. Salad will begin to wilt when topped with warm veggies and dressing.
Leftover salad (without dressing) will keep in the refrigerator for 2-3 days.
Prepared vinaigrette dressing can be substituted with about ½ cup of your favorite bottled oil-based salad dressing.
Nutrition Estimate
Calories:
329
kcal
|
Carbohydrates:
20
g
|
Protein:
9
g
|
Fat:
26
g
|
Saturated Fat:
7
g
|
Polyunsaturated Fat:
11
g
|
Monounsaturated Fat:
6
g
|
Trans Fat:
0.1
g
|
Cholesterol:
25
mg
|
Sodium:
978
mg
|
Potassium:
821
mg
|
Fiber:
6
g
|
Sugar:
8
g
|
Vitamin A:
14117
IU
|
Vitamin C:
28
mg
|
Calcium:
223
mg
|
Iron:
3
mg