Zucchini leek soup is a creamy, flavorful soup that just happens to be vegan and gluten-free. Make this soup in just 30 minutes on the stovetop!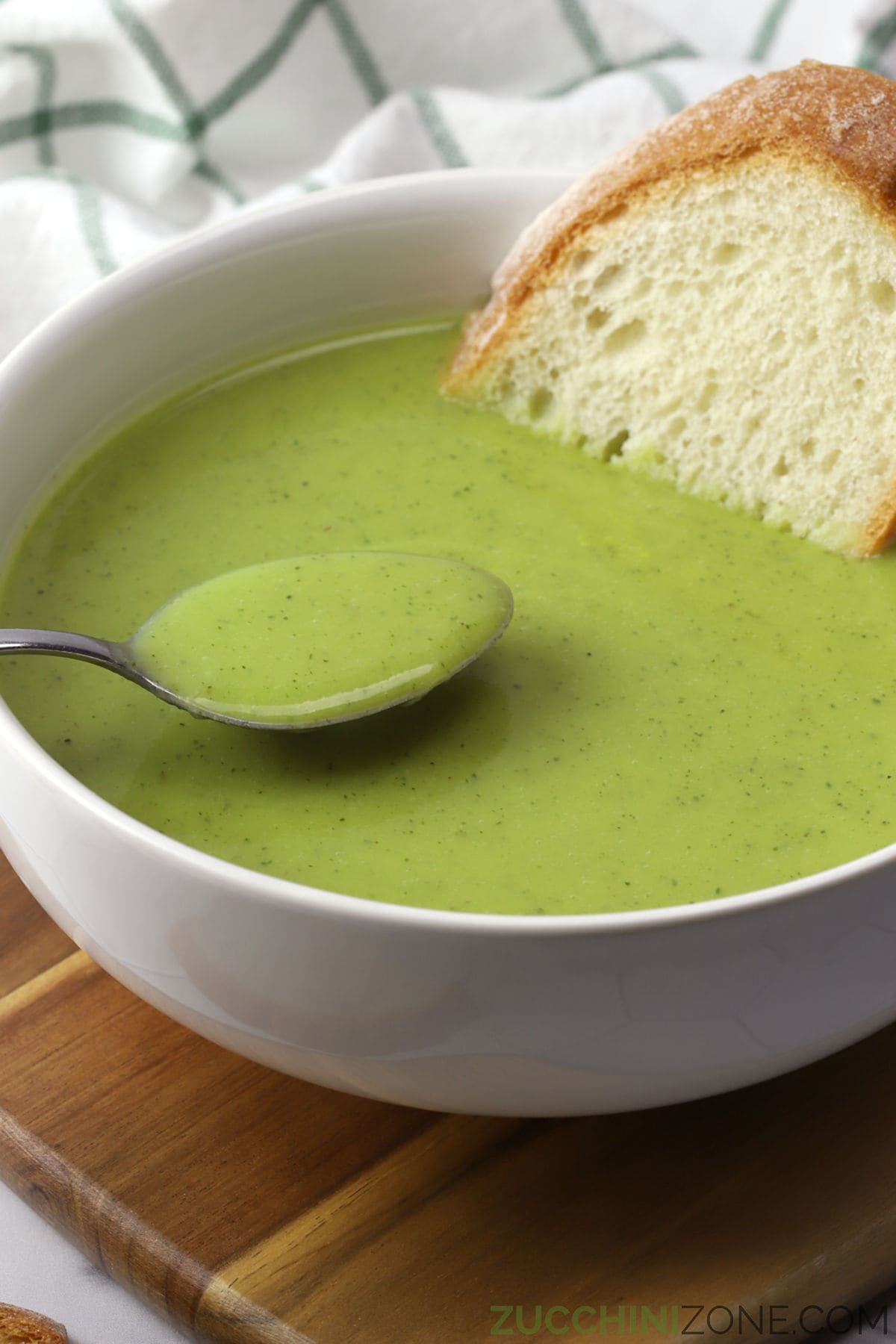 If you loved my recipe for potato zucchini soup, you need to try this zucchini leek soup next. Both soups are creamy and flavorful, and happen to be gluten-free, dairy-free, and vegan.
This soup is made with leeks, which have a sweet, oniony flavor, as well as celery, zucchini, garlic, vegetable broth, and savory seasoning. By blending the soup after cooking, it turns out smooth and creamy, without the need for dairy.
Zucchini leek soup has a slightly sweet and mild savory flavor, perfect for pairing with some crusty bread and a side salad for a light lunch.
Ingredients and substitutions
Leek - Leeks have a mild, oniony flavor. You'll need the whites of three medium leeks for this recipe. They can be substituted with one large sweet onion if desired.
Zucchini - Makes your soup thick and creamy. The bulk of this recipe is zucchini, so it can't be omitted. Zucchini could technically be substituted with yellow summer squash if desired, but your soup will turn out more of a pale yellow-green.
Celery - Adds peppery flavor to your soup.
Olive oil - Can be substituted with your favorite neutral cooking oil.
Broth - Vegetable broth can be substituted with chicken broth (your soup will no longer be vegan if you make this substitution). I do not recommend using reduced sodium broth unless for health reasons. If so, I recommend adding extra herbs to increase the flavor of your soup. See my section below for 'optional additions'.
Garlic - Adds depth of flavor to your soup.
Seasoning - Salt, pepper, and thyme add savory flavor to your soup.
Optional additions
Add dried herbs to your soup. I kept this recipe simple with dried thyme - a classic, comforting flavor. However, you're welcome to add other herbs, like basil, rosemary, or an Italian seasoning blend.
Add fresh herbs like basil or dill, especially if you're looking to use up more of your summer garden harvest. Toss in a handful just before blending.
For a similar basil flavor, add a spoonful of pesto just before blending.
If you enjoy spicy foods, add a dash of hot sauce for depth of flavor and a kick of heat.
Add a few additional cloves of garlic if you love big garlic flavor.
Top your soup with croutons or serve with toasted crusty bread.
How to puree hot soup
Your cooked soup can be blended with an immersion blender or a regular blender. If using an immersion blender, carefully blend your soup (off the heat) right in your stock pot. If using a regular blender:
Allow the soup to cool slightly before blending. It shouldn't be boiling.
Remove the center cap from the lid and have a kitchen towel ready to lightly cover the hole while blending. This is done to allow steam to escape. Otherwise, pressure can build up in your blender and cause splattering.
Fill your blender no more than halfway with hot soup (I blended this recipe in two batches).
Return the lid to the blender (with center cap removed) and lightly cover with a towel.
Starting slowly and gradually picking up speed, blend your soup until smooth. Pour into serving bowls or another stock pot.
Repeat until all soup is blended.
If needed, reheat your soup over medium heat until warm.
What to serve with zucchini leek soup
Zucchini leek soup is a light, nutritious side dish that is best paired with another side dish or your favorite main course.
Sandwiches - Chickpea wrap, grilled cheese, BLT, veggie sandwich, or ham and cheese.
Main dishes - Baked chicken, sauteed shrimp, or a bowl of pasta.
Bread - Crusty bread, biscuits, garlic bread, or croutons.
Salad - Add a few heartier toppings to your salad for a complete meal, like crumbled bacon, cheese, chicken, or chopped walnuts.
Storage and reheating
Zucchini leek soup will keep in a tightly sealed container in the refrigerator for 3-4 days. It reheats well in the microwave or on the stovetop over medium heat.
This soup also freezes well. Allow your soup to cool completely to room temperature, then transfer to a freezer-safe container or bag. Soup can be frozen for 2 to 3 months when stored properly. If your soup does separate while thawing, it will easily come back together with a few seconds in the blender.
📖 Recipe
Print Recipe
Zucchini Leek Soup
Zucchini leek soup is a creamy, flavorful soup that just happens to be vegan and gluten-free. Make this soup in just 30 minutes on the stovetop!
Ingredients
1

tablespoon

olive oil

3

medium

leeks

,

white part only, chopped

2

celery ribs

,

chopped

3

cloves

garlic

,

minced

1.5

pounds

zucchini

,

cubed

24

ounces

broth

,

vegetable or chicken

½

teaspoon

salt

½

teaspoon

dried thyme

¼

teaspoon

pepper
Instructions
In a stock pot over medium heat, add olive oil. When hot, add leek and celery and cook for 3-4 minutes, or until they begin to brown around the edges. Add garlic and cook and additional 30 seconds. Add broth, zucchini, salt, thyme, and pepper. Bring to a boil, cover, and reduce heat to low. Simmer for about 8-10 minutes, or until zucchini are cooked through and soft.

Remove from heat and allow to cool for 2 to 3 minutes. Use an immersion blender and blend until smooth, or transfer soup in batches to a standard blender to process until smooth (remove the center cap from the lid and lightly cover with a kitchen towel to allow steam to escape. Never fill a blender more than halfway full with hot soup).

Add desired garnishes, like croutons, pesto, shredded cheese, or a splash of cream, and serve warm as an appetizer or side dish.
Notes
Soup will keep for 3-4 days in the refrigerator in a tightly sealed container and reheats well in the microwave or on the stovetop.
Soup can also be frozen for 2-3 months in a tightly sealed container (allow to cool completely before storing in the freezer).
Recipe is written as a side dish to be served alongside a main course, or a hearty salad and crusty bread as a light lunch.
Using low-sodium broth will reduce the flavor of this soup. If low-sodium broth is needed for dietary reasons, I suggest increasing your garlic and herbs to add extra flavor.
Nutrition Estimate
Serving:
1
bowl
|
Calories:
115
kcal
|
Carbohydrates:
16
g
|
Protein:
4
g
|
Fat:
5
g
|
Saturated Fat:
1
g
|
Polyunsaturated Fat:
1
g
|
Monounsaturated Fat:
3
g
|
Cholesterol:
3
mg
|
Sodium:
951
mg
|
Potassium:
612
mg
|
Fiber:
3
g
|
Sugar:
8
g
|
Vitamin A:
1471
IU
|
Vitamin C:
39
mg
|
Calcium:
81
mg
|
Iron:
2
mg